Art & History Museums – Maitland offers four special event spaces between the Maitland Art Center and Lake Lily campuses. These breathtaking historic spaces are perfect for your wedding, anniversary, milestone event and more.

Surround yourself in the beauty and splendor of the main garden, complete with reflection pond and architecturally stunning backdrops. This serene and inspiring location is perfect for any occasion. Make the most of the natural canopy created by the lovely garden trees or bring tents into the garden for an elegant event any time of the year. Capacity: 150 seated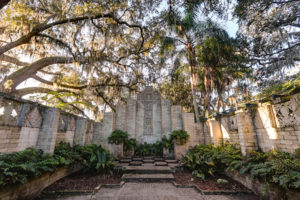 The breathtaking cornerstone of the National Historic Landmark campus of A&H's Maitland Art Center, the Mayan Chapel & Courtyard boasts a truly unique atmosphere. Your guests are enveloped by stunning architecture that appears to be cradled in the surrounding nature. The intimate size of the enchanting chapel is enhanced by ornate sculptures and carved floor tiles that lead the way to a small pond where couples can recite their vows.
The Courtyard that stands steps away is the perfect location for a reception or a larger ceremony. A lovely covered walkway will guide guests into the garden-like outdoor room. Surrounded by embellished tiles and beautiful landscaping, the Mayan Courtyard makes guests feel like they have been transported to a different time. Capacity: 46 persons in Chapel; 100 persons ceremony style in Courtyard; 50 persons reception or cocktail style
The A&H's largest indoor rental space, the Germaine Marvel Building (GMB) is ideal for corporate meetings, holiday parties, weddings and events to celebrate any occasion.
Renovated in late 2014, with the addition of the Rotary of Maitland Event Plaza in late 2015, renting the Germaine Marvel Building currently includes both spaces. The GMB is an open-plan building with multiple entrances and is fully air conditioned with restrooms and a large kitchen located inside. Chairs and tables are available to rent with this space. Capacity: 150 persons seated indoors; 150 persons seated outdoors
The peaceful shores of Lake Lily seem miles away from traffic that bustles nearby. The A&H's Cottage at Lake Lily offers a serene environment for more intimate celebrations. This quaint Cottage is fully air conditioned and ideal for baby showers, bridal showers, workshops, staff retreats and other small celebrations. Tours of the Cottage at Lake Lily are by appointment only. Chairs and tables are available to rent with this space. Capacity: 30 persons seated; or 48 persons cocktail style
Please note that there is a 4 hour minimum for all rentals.
The Main Garden, Chapel & Mayan Courtyard, and Germaine Marvel Building venues are all located at our Packwood campus. The Cottage at Lake Lily is located at our Lake Lily campus.
For more information, please contact Events Manager Sarah Schultz at sschultz@artandhistory.org or 407-539-2181 x253.